Management Philosophy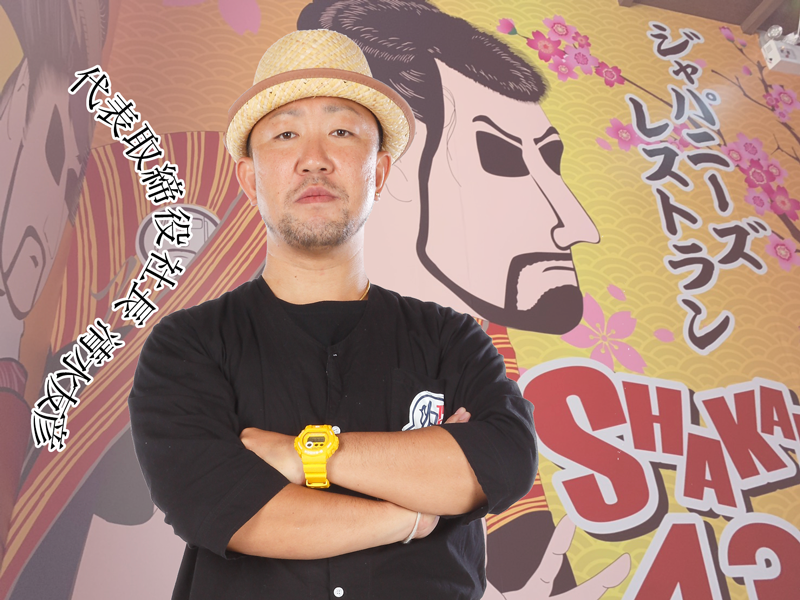 My Motto is "Feel it, Move quick & Do it"
If you are always waiting until you are in the perfect situation, do you think it will come? Probably not! So just give it try before you miss the chance.
I have never thought of myself as successful in this company. I believe I did not miss the opportunity and help from people around me.
I still want to challenge myself and expand the business and I want to share the happiness of Shakariki 432" with people all over the world.
Company Profile
COMPANY NAME
SHAKARIKI432 Co.,Ltd.
CEO
Mr.Tomohiko Shimizu (President & CEO)
ADDRESS
416/6-7 The 3rd Floor, Soi Sukhumvit 55 (Tonglor),
Sukhumvit road,Klongton-Nua, Wattana, Bangkok Thailand 10110
TEL
02-258-2432
FAX
02-258-2432
EMAIL
shakarikibankoku@gmail.com
WEBSITE
https://www.shakariki432.com/
Facebook
https://www.facebook.com/shakariki432/
FOUND DATE
1st July,2012
CAPITAL
30,000,000B
Number of Employees
600
Number of Oultets
Directly Management Store / 13 stores FC/ 6 stores Joint Venture / 4 store Overseas stores / 4 stores
Bank
KASIKORN BANK (HUAI KHWANG BRANCH)
Advance into Thailand
Shakariki432" was first established in Osaka, Japan in 2002 by Tomohiko Shimizu.
He had 6 branches located in Osaka. However, he saw that the growth of the company limited.
One day while traveling in Thailand he saw the business opportunity to Bangkok had to offer. He also saw the similarities between Thai people and people from Osaka.
He decided to sell 4 branches of Shakariki432 in Osaka and come to Thailand.
Asoke Branch was launched in Bangkok on July,2012.
Shakariki 432" is loved by the Thai people because of more than 230dishes available in the menu, such as Osaka Soul food & traditional Izakaya food. The branches are open 365 days a year, stays open late and with Osaka style enjoyable service.
At the present time There are currently 20 branches in Thailand, 1 branch in Myanmar,1 branch in Malaysia, and 1 Thai style Izakaya store in Osaka, Japan.
History
| | |
| --- | --- |
| 7.2012 | Shakariki432″ Asoke Main store Open |
| 8.2013 | Shakariki432″ Nihonmachi soi26 Branch Open |
| 2.2014 | Shakariki432″ Taniya Surawong Branch Open |
| 2.2014 | Shakariki 029 Open |
| 9.2014 | SUSHI432″ Open |
| 10.2014 | 432″ PLUS BAR Open |
| 11.2014 | Established Shakariki 51 Co.,Ltd. |
| 1.2015 | Shakariki432″ Tonglor Nihonmura mall Branch Open |
| 3.2015 | Ko shakariki Pattaya Brunch Open |
| 4.2015 | Shakariki432″ Ratchada Esplanade branch Open |
| 7.2015 | Shakariki432″ Nihonmachi soi26 Hanare Open |
| 10.2015 | Shariki432″ Sriracha Aeon mall Branch Open |
| 12.2015 | New Tonglor Brunch Open |
| 12.2015 | Shakariki432″ Myanmar Yangon Super Hotel Branch Open |
| 2.2016 | Shakariki 432″ Myanmar Yankin Branch Open |
| 8.2016 | Shakariki 432″ Bang Na brunch Open |
| 12.2017 | Thai Style Resturant & Bar Aroi Ching Ching Open |
| 3.2017 | Established STR213 Co.,Ltd. |
| 8.2017 | Shakariki 432″ New Taniya branch Open |
| 8.2017 | Shakarich Thonglor Branch Open |
| 9.2017 | Mega Rooftop Shakariki 432″ INT Rama3 branch Open |
| 12.2017 | SHAKARIKI432″ ONNUT BRANCH Open |
| 2.2018 | SHAKARIKI432″ MALAYSIA MONT KIARA PUBLIKA SHOPPING MALL BRANCH OPEN |
| 5.2018 | SHAKARIKI432″ MEGA BANG NA BRANCHOPEN |
| 6.2018 | SUMIBI YAKINIKU432″ OPEN |
| 9.2018 | SHAKARIKI432″ SUKHUMVIT31 BRANCH Open |
| 10.2018 | SHAKARIKI432″ PATTAYA TERMINAL 21 |
| 11.2018 | FC SHAKARIKI432″ Ram Intra |
| 2.2019 | SHAKARIKI432″ WHIZDOM101 BRANCH OPEN |
| 3.2019 | SHAKARIKI432″ SUKHUMVIT11 BRANCH OPEN |
| 4.2019 | SHAKARIKI432″ TOWN INTOWN BRANCH OPEN |
| 6.2019 | SHAKARIKI432″ EKKAMAI BRANCH OPEN |
| 6.2019 | FC SHAKARIKI432″ BANG KHAE BRANCH OPEN |
| 6.2019 | SHAKARIKI432" Bnagkae BRANCH OPEN |
| 7.2019 | SHAKARIKI432″Silom BRANCH OPEN |
| 8.2019 | SHAKARIKI432″ The Circle BRANCH OPEN |
| 10.2019 | SHAKARIKI432′ Bangkran BRANCH OPEN |
| 11.2019 | SHAKARIKI432″ Malaysia Desa Sri Hartamas BRANCH OPEN |
| 1.2020 | SHAKARIKI432″Bizzo Bangna BRANCH OPEN |
| 8.2020 | FC SHAKARIKI432″ The Nine Center Rama9 BRANCH OPEN |
| 11.2020 | SHAKARIKI432″ THE STREET RATCHADA BRANCH OPEN |
| 3.2021 | NEO SHAKARIKI432″ BRANCH OPEN |
| 12.2022 | SHAKARIKI 432" CHIANG MAI BRANCH OPEN |
| 2.2022 | TOWANO TOFU & JOTO CURRY BRANCH OPEN |
| 2.2023 | RAMEN TENYO & JOTO CURRY THE UP BRANCH OPEN |
| 5.2023 | RAMEN TENYO & JOTO CURRY ASOKE BRANCH OPEN |
| 5.2023 | RAMEN TENYO & JOTO CURRY EKKAMAI BRANCH OPEN |
| 7.2023 | RAMEN TENYO & JOTO CURRY THONGLOR BRANCH OPEN |
| 11.2023 | FC SHAKARIKI 432" ARI BRANCH OPEN |
| 11.2023 | SHAKARIKI 432" CAMBODIA BRANCH OPEN |
| 12.2023 | SHAKARICH THANIYA BRANCH OPEN |
紹介動画